Read the original post here
Cryptocurrency In The World Of Finance: Part 2
In 2009, when Satoshi Nakamoto released his Bitcoin White Paper to the world, no one could have foreseen the powerhouse that Bitcoin has become in the last eight years. Even harder to fathom would be the massive wave of innovation and the financialization of digital assets to follow.
Cryptocurrency in The World of Finance: Part 1 focused on how traditional financial tools such as ETFs, IRAs and IPOs are being adapted to cryptocurrency. In part 2 we will be highlighting some of the more unconventional investment projects in the crypto space.
Cool Crypto Assets
Peerplays
Peerplays is the world's first peer-to-peer betting platform built entirely on top of a live blockchain.
"provably fair online gaming is badly needed. Enter Peerplays, a solution for provably fair blockchain-based gaming that allows users to design their own specialized tokens or chips, buy or sell gateway tokens for popular cryptocurrencies like Bitcoin or Ether and then wager these tokens in on-chain games."

How is this an investment?
Peerplays was funded through an Initital Coin Offering(ICO). During the crowdfunding, people were able to purchase Peerplays Tokens (PPY Tokens).
What is the purpose of Peerplay Tokens?
"Each core token has a weighted vote, allowing its holder to participate in the growth and maintenance of the network. Also, each core token represents a percentage of every fee collected from users of the network. These fees accumulate into a virtual account on the blockchain, and are distributed as profit sharing payments into the accounts of core token holders at regular intervals."
Once Peerplays is up and running, PPY Token holders will receive commissions and fees generated by Peerplays based on the number of PPY tokens in their account.
How does profit sharing work?
"Like most online gaming platforms, the Peerplays network collects a small percentage of each jackpot, which is called the rake fee. These fees are automatically sent by the blockchain into a virtual account, where they accumulate until they reach a certain threshold or time interval. Then, they are automatically distributed to the accounts of Peerplays core token holders, according to the total percentage of core tokens belonging to each account."
In a sense PPY Tokens are a dividend yielding cryptocurrency.
The global sports betting market is worth up to $3 trillion, and online betting accounts for billions.
If Peerplays can capitalize on their unique services and gain a foothold in the market, PPY Token holders could see a nice return.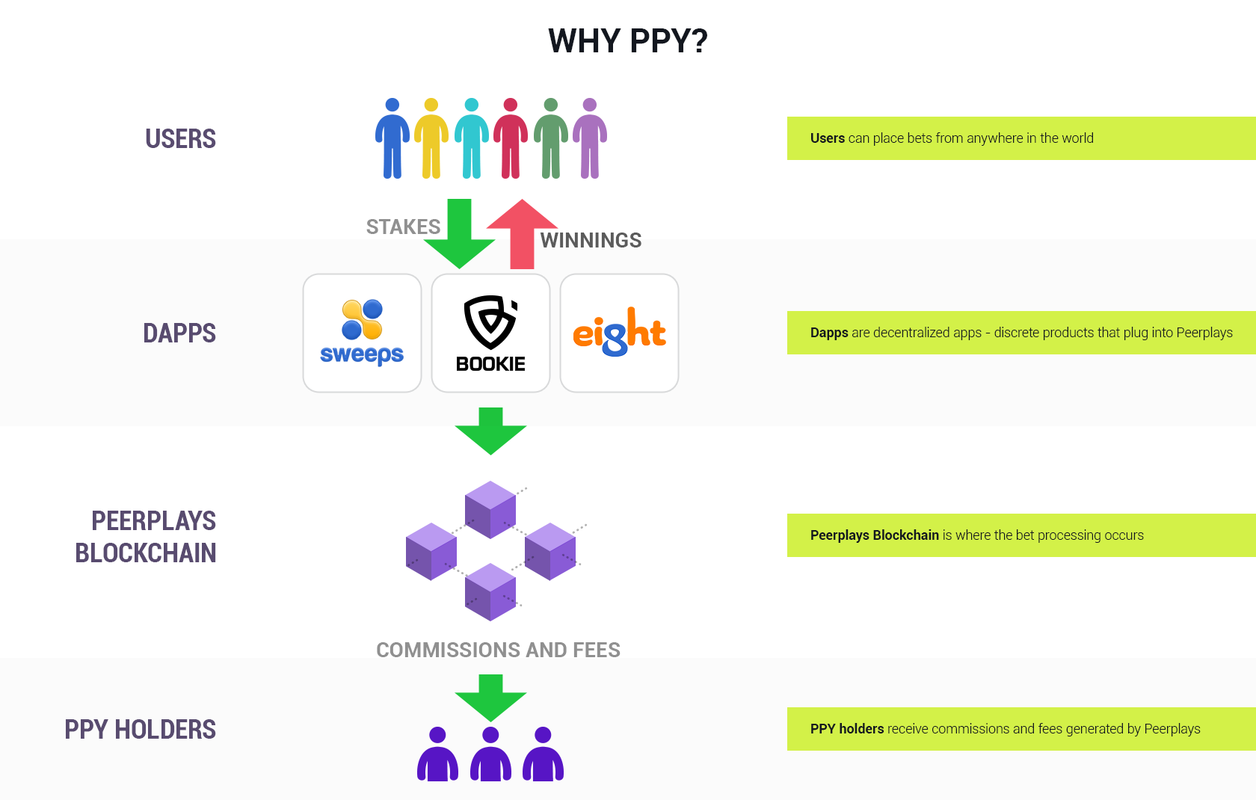 Bancor
Bancor Protocol is a standard for a new generation of cryptocurrencies called Smart Tokens

What is the Bancor Protocol?
"The Bancor protocol enables built-in price discovery and a liquidity mechanism for tokens on smart contract blockchains. These "smart tokens" hold one or more other tokens in reserve and enable any party to instantly purchase or liquidate the smart token in exchange for any of its reserve tokens, directly through the smart token's contract, at a continuously calculated price, according to a formula which balances buy and sell volumes."
The ICO fundraiser for Bancor set a new industry record!
"An initial coin offering (ICO) for a blockchain project called Bancor has set a new industry record, raising approximately $153m in ether, the native currency on the ethereum blockchain, as part of a crowdsale that concluded today."
https://www.youtube.com/watch?v=P8EoAvWfFnY
Bancor looks to increase liquidity and take advantage of newly formed relationships between assets.
With Bancor a user can hold a single token but have exposure to several other assets similar to an ETF.

Bancor has created a lot of buzz within the crypto industry and it will be interesting to see the results of the Bancor Protocol, this is definitely a project you should keep your eyes on.
Conclusion
The cryptocurrency industry is moving fast and is being flooded with new investment capital. Blockchain technology will continue to advance and the infrastructure behind it will be further developed. New assets and investment opportunities will continue to present themselves in ways we cannot yet imagine. There is a fundamental shift occurring in Financial Technology on the same scale as the introduction of the internet and its impact on businesses. The world is changing and we need to adapt and leverage new technology to our advantage.
(This is not financial advice)
Read Part One here
Sources
http://www.coindesk.com/150-million-tim-draper-backed-bancor-completes-largest-ever-ico/
If you are interested in buying BTC,LTC or ETH check out Coinbase, you will get $10 of free BTC after your first $100 BTC purchase, using the link below.
KeepKey Hardware Wallet, the wallet I use.
If you want to stay up to date on crypto news follow my blog @digicrypt.
DASH: XgQ9NBonMoCPKhF37agY4W8zk7gwQFnwGV
Litecoin: LfqygtBxy3AJgEpTnTMUYGEoTYEcED8YPZ